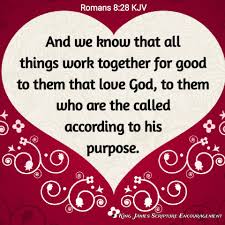 Awareness of Our Purpose
What is purpose?  Purpose as a noun is something we possess and something we do.
Romans 8:28-29 reveals God's purpose for His true followers.  It says, "And we know that all things work together for good to them that love God, to them who are the called according to his purpose.  For whom he did foreknow, he also did predestinate to be conformed to the image of his Son, that he might be the firstborn among many brethren."
First…what we 'possess:'
In Christ, we live and move and have our being as the offspring of God (Acts 17:22-31). In Christ, our life is hid with Christ in God (Colossians 3:3).  So, we possess a relationship with God through Jesus Christ.
In Christ, we possess spiritual gifts given to us by God for our use in glorifying God as we carry out His kingdom work on earth (Romans 12, 1 Corinthians 12 and Ephesians 4).
Next…what we 'do:'
Ecclesiastes 12:13-14 (KJV) says, "Let us hear the conclusion of the whole matter: Fear God, and keep his commandments: for this is the whole duty of man. For God shall bring every work into judgment, with every secret thing, whether it be good, or whether it be evil."
Micah 6:8 says, "He hath shewed thee, O man, what is good; And what doth the Lord require of thee, But to do justly, and to love mercy, And to walk humbly with thy God?"
Every true follower of Jesus Christ has the call (Matthew 28:19-20) and privilege to share Christ with others and to teach/train them to also share Christ with others (disciples become disciplers of others). It directly involves making Christ known to the people around us.  How each of us do that will be specific to how God calls, equips and empowers us for His glory.
The 'doing' aspect of our purpose is to carry out the will of God in Christ Jesus.  All of our 'doing' begins with us knowing Him personally via a saving relationship first and then learning about Him in the written word of God (the Bible).
This reality should motivate us to learn the purposes of God for our life and then join Him obediently in that journey so that we are an honorable vessel for use in the Master's loving hands.
Ezekiel's Purpose Revealed
The first two chapters of Ezekiel give us the backdrop to how God was working in Ezekiel's life to prepare him for the task ahead as one of God's chosen prophets.  This task to which God called Ezekiel was a frightful and difficult task, but God equipped Ezekiel for it.  It was God's purpose and will for Ezekiel to serve God in very specific ways, as is the case for all true followers of God.
What exciting or frightful task do you believe God has set before you to do and for which He has equipped you in your current stage of life?  Esther (in the Bible) found out that "for such a time as this," her purpose was to be used of God in rescuing the Hebrew nation in her day from malicious slaughter.  But, like Ezekiel, difficult circumstances had to unfold before she realized this holy purpose.
Perhaps you truly don't know God's purpose for your life but WANT to know with all your heart.  Read on…
Ezekiel 1:3 says, "The word of the Lord came expressly unto Ezekiel the priest, the son of Buzi, in the land of the Chaldeans by the river Chebar; and the hand of the Lord was there upon him."  We see here that Ezekiel was already chosen to be a priest by the time he was put into captivity in Babylon with the other Israelites from Judah.  So, Ezekiel had purpose in life as a priest.  But wait; there's more!
God called Ezekiel the priest to the office of a prophet of God in Ezekiel 2:2-5:
And the Spirit entered into me when He spake unto me, and set me upon my feet, that I heard Him that spake unto me.  And He said unto me, Son of man, I send thee to the children of Israel, to a rebellious nation that hath rebelled against Me: they and their fathers have transgressed against Me, even unto this very day.  For they are impudent children and stiffhearted. I do send thee unto them; and thou shalt say unto them, Thus saith the Lord God.  And they, whether they will hear, or whether they will forbear, (for they are a rebellious house,) yet shall know that there hath been a prophet among them.
Like Daniel in the Babylonian captivity, God also called His servant Ezekiel while in the same captivity to do God's will and work in the midst of His imprisoned people (the Israelites from Judah).  Like Daniel, Ezekiel was also a young man (around 25 years old) when he was forced into this 70-year captivity to an enemy nation (Jeremiah 29:4).  Are you catching this scope?  These two young men were called by God for specific purposes IN THE MIDST of captivity to an enemy nation.  Think about how this mirrors the circumstances for Christians in our volatile country/world today.
As a priest of God, Ezekiel would have been familiar with the ways of God and knew God relationally by age 25 in light of his ministry as a priest.  He was closer to 30 years of age when God called him to the role of a prophet.
Discovering Our Purpose
Whether you are at the start of your life or nearing the end, as we view it, take some time today to seek God concerning that inner gnawing that keeps you wondering, "God, what is my purpose in this life?"  "Lord, why do You have me 'here' knowing what my difficult circumstances are?"  "Father, I feel useless or confused about what I should be doing for You until You call me home.  Please make me to know Your plan for me so that I may finish strongly at the end of my time on this earth."
These are right questions to ask and ponder before the LORD.  After all, HIS purpose for us is our purpose in this life.  We allow too many voices outside of God's voice, including our own voice in our head, to convince us that having 'the right' purpose in life is what will bring us true happiness.  When God is left out of that equation, however, and our purpose in life becomes self-serving, then that follower of God will grow empty and unfulfilled within.  Worse yet, that person in Christ will suffer loss at the Judgement Seat of Christ when they kneel before the Lord face to face.
According to the Bible, before time was even put into order by God, He already had a plan and a purpose for humanity before He created the first human being (Ephesians 1:3-12, 1 Peter 1:17-21).  Jeremiah 29:11 tells us that God's [thoughts, devices, plans, purpose] for His people is of peace and not evil — to give us a final outcome of peace and hope (a blessed expectation).  Why wouldn't we want to join God in this?!
God is our Maker.  He made us for Himself.  When we diligently seek Him by faith (Hebrews 11:6) in His word and in prayer to understand what His purpose for our life on this earth is, He will answer us in ways we can understand.  Then, we can 'get on with' the purpose-filled tasks He sets before us to do.
If this is the point at which you feel stuck, then ask God to reveal to you the obstacles in your life that are keeping you from clearly understanding His answer(s) to your question(s).  Obstacles can include unrepented sin (unforgiveness, bitterness, greed, lust, bad temper, pride, lack of true trust in God by faith, etc.) or you have not truly been born again yet.  (To understand being born again, go to my homepage for a detailed explanation on this life-or-death matter.)
Where God Guides, He Provides
God's purpose for Ezekiel included Ezekiel's roles as a priest and a prophet and then all the work God set before Ezekiel to do in these respective roles.
In Ezekiel 2:6, God told Ezekiel in his upcoming role as prophet NOT to fear his target audience (rebellious Israel), NOT to fear their words, and NOT to be dismayed at their looks.  Dismayed here carries the meaning of being turned back from something due to confusion and heavy discouragement.  Hmmm; why would God warn His called servant like this ahead of time?
These negative commands from the LORD are clearly positive in essence.  God graciously prepared Ezekiel in advance to make sure Ezekiel did not get blown off course by the rebelliousness of his audience to whom he would give God's message.  Oftentimes, God's purpose for us to carry out is hard for us to understand and to do.  Yet, when we obey God, we find that we have everything we need and then experience the fulfillment that comes with our obedience to our Heavenly Father.
God urged, encouraged and equipped Ezekiel to follow through to obedience with God's hard task for him.  How gracious of God to supply everything we need ahead of a daunting task to remind us that the mission is truly God's work and not ours!  It remains our responsibility (and purpose) to obey God in the tasks set before us by Him, knowing He will be with us every step of the journey.  God knows and provides what we need, just like with Ezekiel, in proportion to the difficulty of each task before us.
Part of the lesson here for you and me is to pay attention to the Lord's work in our life.  Where do you perceive God is leading you for the purpose of completing His will on earth through your surrendered life?  If we look through the lenses of self-interest or worldly aspirations, we will miss the will of God for our life every time.  But, when we consider all that God has given us for use in His kingdom, His purpose for our life becomes clear.  I'll put some more meat on those bones in the paragraphs below.
Jesus Modeled Setting His Face as Flint as He Carried Out the Father's Purpose
Let's look at the only One mentioned in scripture Whose face was set as flint in completing the Father's mission without fail or faltering.  His title is Christ, and His Name is Jesus.  In short, Jesus is God.  God came to earth, took on the form of humanity, lived and died a sinless life on earth, and consequently, was the only Person Who was qualified to pay the death penalty for the sin of humankind.
Yet, when Jesus walked the earth, He was in bodily human form and was subject to the same limitations you and I are in our physical humanity.  Therefore, like us, Jesus had to rely on the Father for everything He needed to carry out the plan and purpose of God set before Jesus, as do we.
Isaiah 50:4-9 is a Messianic text pointing us forward to Jesus Christ in the New Testament.  (Jesus Christ in the New Testament is the promised Messiah of the Old Testament.) (I won't get deep here into the Godhead because it is a BIG subject.  So, if you have questions on this that you'd like to discuss with me, send me a message through my Contact page or reply to the email in which you received this lesson as an attachment.  I look forward to hearing from you.)
The text in Isaiah 50:4-9 says, "The Lord God hath given Me the tongue of the learned, That I should know how to speak a word in season to him that is weary: He wakeneth morning by morning, He wakeneth mine ear to hear as the learned.  The Lord God hath opened Mine ear, And I was not rebellious, Neither turned away back.  I gave my back to the smiters, And My cheeks to them that plucked off the hair: I hid not My face from shame and spitting.  For the Lord God will help Me; Therefore shall I not be confounded: Therefore have I set My face like a flint, And I know that I shall not be ashamed.  He is near that justifieth Me; who will contend with Me? let us stand together:  Who is Mine adversary? let him come near to Me.  Behold, the Lord God will help Me; Who is he that shall condemn me?  Lo, they all shall wax old as a garment; the moth shall eat them up."
Right out of the gate, we read by Jesus's own confession that God the Father (Yahweh/Jehovah) gave God the Son (Jesus Christ/God With Us) everything He (Jesus) needed on this earth to carry out the Father's heavenly purpose in the several years of ministry for which Jesus was sent.  Notice that Jesus's attitude was one of resolute, complete submission and obedience to the Father.  As the Father woke the Son's ear morning by morning, we see the union and collaboration of daily intimacy that made God's mission for Jesus a total success.
Setting Our Face as Flint to Complete Our Part in God's Kingdom Work on Earth
Ezekiel 3:8-11 says, "Behold, I have made thy face strong against their faces, and thy forehead strong against their foreheads. As an adamant harder than flint have I made thy forehead: fear them not, neither be dismayed at their looks, though they be a rebellious house. Moreover he said unto me, Son of man, all my words that I shall speak unto thee receive in thine heart, and hear with thine ears. And go, get thee to them of the captivity, unto the children of thy people, and speak unto them, and tell them, Thus saith the Lord God; whether they will hear, or whether they will forbear."
God made Ezekiel's face and forehead strong against rebellious Israel, to whom Ezekiel had to go and give God's message of warning, rebuke and coming judgment if they would not repent.  God warned Ezekiel that they are a rebellious people and likely would not hearken to God's message given through Ezekiel.  Ugh!  What a mission!
Yet, God told Ezekiel to give the message either way so that the blood of the rebels would not be upon Ezekiel's account at the Judgment (Ezekiel 3:17-21).  Whoa!  Strong words from the LORD!  God knew Ezekiel's personality and character as Ezekiel's Creator.  God knew what young Ezekiel needed to hear from God before God released Ezekiel to carry out God's work.  God still does the same thing for us today when we seek Him to serve Him according to HIS purpose for our life.
Ezekiel had some serious decisions to make at this point.  Would he obey God, or would he rebel with his rebellious countrymen due to a fear of man?  In reality, for Ezekiel and us today, there truly is no righteous third option.  I hope you, dear reader, are seeing this truth in your life today.  God's purpose for your life and mine is the only purpose in life that we as a true follower of God in Christ Jesus should seek to complete.
Keep reading to learn more about your general purpose and specific purposes for your life.
God knew that in order for Ezekiel to complete this hard task, GOD would have to do a particular work in Ezekiel for Ezekiel to be utterly, completely, 100% resolved to obeying God in all that this mission entailed.  So, God made Ezekiel's face and forehead strong, like an adamant harder than flint.  Flint is a very hard stone, and adamant is even harder, like a diamond.
Using these hard objects as an analogy for Ezekiel's disposition clarifies that this would be a difficult mission.  BUT GOD would be with Ezekiel every step of the way, equipping and empowering Ezekiel to complete his purpose in life from and for Almighty God.
Have you ever had a strong sense from the LORD that He was calling you to carry out a very specific task that would force you out of your comfort zone?  I have.  Has it unnerved you or terrified you at the thought of what the possible or potential repercussions might be from the people that your task will impact?  I know all too well what this 'feels' like.  Yet, God warned Ezekiel that to not give these people God's message would result in God holding Ezekiel accountable at the Judgment.  That's heavy incentive to obey God, even if those rebels end up killing Ezekiel for telling them the truth.  I would need God's help, too, to carry out such a scary mission.
God amazingly and graciously prepared Ezekiel for this daunting task — because it was a daunting task beyond Ezekiel's frail humanity to carry out in his feeble human strength.  God called and equipped Ezekiel for this frightening task, knowing that Ezekiel would not bring it to pass without God's strong help every step of the way, which God absolutely gave to Ezekiel.  Will God not do the same for you and me today (prepare us for the work He sets before us to do and then empower us to carry it through to completion)?  Of course He will!
Who of us would obey God without any fear of man in circumstances like in Ezekiel's day?  Hopefully, our fear of God will win over our fear of man every time.
The beauty of walking with God and being in His service is that He gives us everything we need to carry out His holy plan and purpose for our life.  We must choose to obey Him, no matter the personal cost, and resolutely trust Him to complete in us what He started from the beginning (Philippians 1:6)!  Think about how Jesus modeled this for us…
Being about the Father's Business ~ Fulfilling Our Purpose in Life
So, what is the plan/purpose God has set before you to fulfill in this life?  In general, it's the same plan He has for all of His true followers.  We know from Matthew 28:18-20 that all of us must carry out the Gospel work initiated by and founded upon Jesus Christ.  It is by His power, authority and His Spirit that we share the Good News of Jesus Christ with as many people as we can.  And, we must disciple new believers in God's word to teach them, in turn, to share Christ with others and disciple other young converts to do the same, etc.
Unless our face is set as flint toward the LORD in total submission to His will in this life, we will fail to carry out His holy purpose to which He calls us.
Luke 2:49 tells us that even by age 12, Jesus (as a boy) knew His Father's plan for Him while He was here on this earth.  In verse 49, Jesus asked His sorrowing earthly parents "[don't you know] that I must be about my Father's business?"  (Luke 2:41-52 will fill in the blanks for you on this riveting family story.)
God's general purpose for His people is to know Christ (be His disciple), make Christ known (as His disciple), and train others to do the same (make disciples).
No matter our age and stage of life, now (today) is the time to obey God according to His will and purpose for our life.  How we specifically carry out His general purpose for us will be discussed below.
In John 5:30, Jesus said, "…I seek not mine own will, but the will of the Father which hath sent me."  And, in John 6:38-40, Jesus said, "I came down from heaven, not to do mine own will, but the will of him that sent me. And this is the Father's will which hath sent me, that of all which he hath given me I should lose nothing, but should raise it up again at the last day. And this is the will of him that sent me, that every one which seeth the Son, and believeth on him, may have everlasting life: and I will raise him up at the last day."
Jesus set the example of being about the Father's business for us to follow/mimic.  He perfectly carried out the Father's purpose for Him while on this earth.  How He carried out the Father's will was specific to Jesus as Messiah.  How you and I carry out the Father's will is specific to the calling, gifts, skills, talents, anointing, natural and supernatural abilities HE gives us.
So, what talents and special abilities do you have?  …quilting/sewing, cooking, clerical, business, building, singing, speaking, painting, leading or computer skills, for example?  What are the spiritual gifts God has given you for use in His kingdom work?  …prophecy/preaching, teaching, leading, serving, giving, mercy, exhortation?  When you know the answers to these questions, you begin to have a clue as to the platform for sharing Jesus with others that God has put before you in which to serve Him.
Today, I am still carrying out the specific work to which I believe God called me years ago around 1993, which is discipling adult women in the word of God.  But, I am carrying out His purpose for me in a different way in my current season of life.  I serve God as a lay, biblical counselor to women and a run a website platform offering discipleship for women.  I do this from the comfort of my home in a 'retired' status since 2020.  After I shut down the nonprofit, the call of God on my life did not cease.  I must faithfully serve Him until I no longer can in this life.
When all is said and done in each of our lives, we need to consider:  what will we have to offer Jesus when we kneel before Him on that glorious Day?  Did we complete the Father's purpose in what time and with all the resources and abilities we were given as a follower of Christ?  Let's purpose today to be in a rightful position to answer that important question affirmatively and without regret when we meet Jesus face to face.
Let's not deceive our self into thinking we can wait until 'retirement' or an easier time in our life to do the Father's will.  None of us know when our final opportunity is to do this.  Right where we are, right now with our current life circumstances is the right time to do the Father's will — not tomorrow or even five minutes from now.  Now means now.  Please take time right away to humbly seek God by faith for the wisdom He will share with you on how to proceed in obeying Him generally and specifically.
A particular hymn sums up the question that stays on my heart year after year in my service of Jesus Christ.  This song presents the question:  "I wonder have I done my best for Jesus, when He has done so much for me?"  If I set out to find and fulfill my own purpose in life and leave the Father's will out of the equation, I will be ashamed to kneel before my LORD when I meet Him face to face.  However, if I set my face as flint today by the grace and power of God to know Christ and to make Him known every opportunity that I can, then I will be unashamed in His Presence and will enjoy greater reward for all eternity.  God will show you how to do this as you seek Him diligently by faith day by day.
Please let me know how I may pray for you or guide you in learning God's specific purpose for your life on earth.
Summary Points:
God's purpose IS our purpose in life – for those of us who are the true followers of Jesus Christ.
God's general purpose for His people is to know Christ (be His disciple), make Christ known (as His disciple), and train others to do the same (make disciples).
God reveals to each of His willing, seeking servants the specific work/tasks to which God calls us.
God prepares, equips and empowers His servants to carry out His holy will. If we are not walking in God's purpose, then we cannot expect to receive God's power.
The Father's business is the only business we should seek to carry out in this life. How we carry it out is unique to how He equips and empowers us.
We must pay attention to the calling, gifts, skills, talents, anointing, natural and supernatural abilities that God has given us. This clues us in on how to carry out His purpose for us in this life.
We must set our face as flint and stay resolved to fearfully obeying and serving Christ until the Father calls us home to Him.